Painting and drawing classes in a traditional artists' studio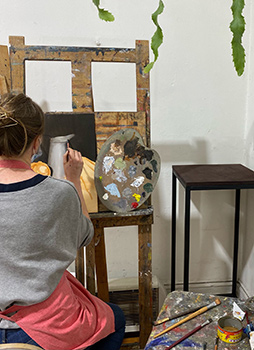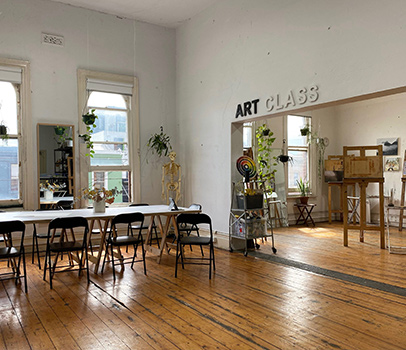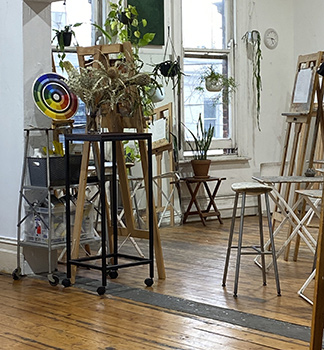 Welcome back Melbourne! The Fitzroy Painting studio has moved to a larger studio in the same building. Our new studio is on the first floor with loads of light and space, and we are super excited to share it with you!
In line with current State Government directions and to keep our studio COVID-safe, all students must be fully vaccinated, and students must check-in with the QR code on arrival. As a small artist-led business, we have worked hard to keep our studio going during multiple lengthy lockdowns, and take the safety of our community seriously.
*Please note: Whilst we try to accommodate all students, please note any bookings made during this time may be subject to change, and we may have to offer you alternate dates whilst current students complete their courses.
Melbourne art classes and workshops for complete beginners, intermediate and advanced students.
Situated in the heart of Brunswick Street, Fitzroy, all our art classes are run by professional artists and highly qualified teachers in a supportive studio environment. Established in 2009 as Painting for Beginners, our studio classes began when a need for a 'back to basics' method of teaching was identified. Since then our art classes have continued to grow and allowed us to offer a greater variety of courses and workshops  run by visiting artists specialising in a range of painting  techniques and methodologies. We have developed a close community of students and peers that continue to use the studio to paint, socialise and further develop their skills. Many of our students go on to exhibit professionally, both independently and as a group.
Fitzroy Painting art classes are structured but fun and informal, and every student receives one-on-one guidance whilst developing skills and confidence. With our personal approach and core academic skill set, all of our teachers are dedicated to helping students become competent at making art. The focus of our teaching is understanding media and building classically-based skills to enable students to make the work they wish to make.
We offer monthly oil painting short courses for complete beginners as well as ongoing painting classes for intermediate and advanced students. We also run regular watercolour and drawing classes, and a wide range of workshops covering contemporary and traditional media and techniques throughout the year. Due to the popularity of our classes we strongly recommend you book ahead of time to secure your place. Questions? Check our FAQ page!
Please note that our classes are suitable for adults only.