Melbourne art classes and workshops
Established in 2009, Fitzroy Painting for Beginners art classes began when a need for a 'back to basics' method of teaching was identified. The studio is based on the first floor of a Victorian heritage building overlooking bustling Brunswick Street, Fitzroy and provides an inspiring environment to develop your painting and drawing with the support and guidance of full-time professional artists.
Our Melbourne art classes are small and informal, and we offer a range of classes to suit every level, from complete beginners through to advanced artists looking for mentoring. Students work at their own pace and receive one-on-one attention. Evening classes include wine and snacks, and morning classes include tea, coffee and cakes.
Classes run for 3 hours and basic equipment and storage facilities are available for student use at the studio. We believe in safe studio-practice and provide students with low-odour/low-toxic solvents as well as artist-quality clean-up materials. We also run workshops and lectures by visiting artists, check our booking page for upcoming classes.
All Fitzroy Painting tutors are professional practicing artists exhibiting regularly, and who share a passion for teaching. All of our tutors believe in teaching sound painting and drawing foundations and promote safe studio practice, whilst encouraging students to explore, develop and expand their painting practice.
All ongoing students are invited to exhibit in our annual end of year exhibition, a fun opportunity to show family and friends what you've been doing.
Please note that our studio is located on the first floor of a Victorian heritage building and access is by stairs only. 
Our classes are not suitable for students under 18 years of age.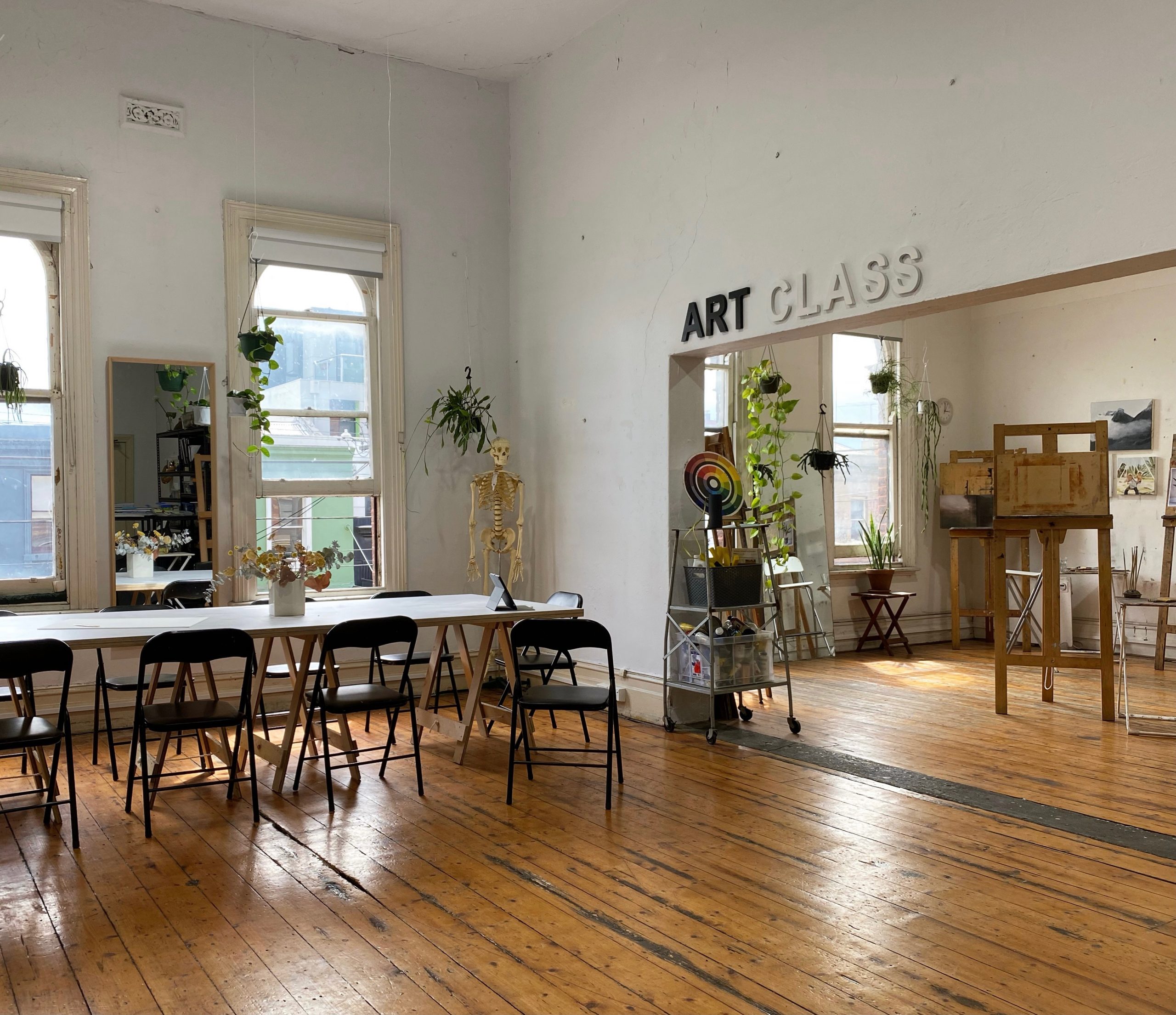 Learning by doing, this four-week course is designed for the complete beginner! Fitzroy Painting offers a popular oil painting program that teaches the basics of colour mixing, composition, drawing, paint handling and materials information. Each student will take home three completed oil paintings working from still life as a teaching vehicle. Whether you have painted before or are a complete beginner, the course is designed to inform students as to how to use their art materials correctly, economically and archivally. After the course students will be at a competent level to continue painting at home or continue on to Level 2. Please note we are unable to offer make-up classes, full terms & conditions are listed on the course description.
This four-week course is recommended for students who have completed our Level 1 beginners course and wish to continue learning with us, or students who have some previous experience and basic oil painting skills, but are a little 'rusty' and need a refresher before joining our ongoing and advanced level classes. This class expands on traditional and contemporary painting methods and techniques, and takes your painting skills to the next level. This class runs on Wednesday evenings, Saturdays and Sunday mornings.
This four-week course is an extension of our beginners courses, and the techniques and skills learnt in Level 3 will assist students to begin working independently with confidence.  Working on an image of their choice over four weeks, students will develop skills and techniques in tonal underpainting and glazing. After the course, students may continue working with the same tutor on a casual basis in Sunday Open Studio.
Ongoing Painting Classes & Open Studio:
Our ongoing classes provide a supportive and friendly studio environment for students to build confidence and develop their practice with guidance and feedback from their tutor, whilst being part of a painting community.
These classes are suitable for intermediate and advanced students wanting to explore their own aesthetic interests and direction, whilst concentrating on developing painting and/or drawing skills, techniques and studio practice to make the best work they can with close tutorial support and critical feedback.
Students are encouraged to bring in their own material to work from, or to set up individual studio-based enquiries from our large supply of props and reference material. Traditional and contemporary painting and drawing techniques are discussed, and optional exercises are available to assist in furthering skills and expanding students practice. Tutors work with each student individually throughout the  class. This class runs on Monday evenings, Tuesday mornings and evenings, and Sunday afternoons.
Learn to see differently! The Drawing programme is a four-week program which runs throughout the year, Drawing Studio 1 is for complete beginners, and offers a series of drawing projects exploring a range of drawing methods, materials and techniques. Drawing Studio 2 expands and develops drawing and observational skills, and includes an introduction to Life Drawing. All materials are supplied. This class runs on Thursday evenings.
Watercolour Classes:
Friday is Watercolour day at Fitzroy Painting. The Natural World Level 1 is our beginners class. The Seasonal Splendour series runs once every Spring, Summer, Autumn and Winter, exploring more complex colour-mixing and layering techniques, based of colours of the season. This course is suitable for students who have already completed Level 1, or who already have some watercolour experience. We also run one-day beginners workshops regularly throughout the year, as well as advanced workshops focusing on complex colour wheels and their application.
Art class rates and payment:
All bookings are done online. Questions? Please email us at [email protected] or call us on 0451 239 716 and leave a message and we will get back to you as soon as we can.
Prices for classes and workshops are listed on each class description.
Oil painting kit hire or purchase are available at time of booking.
Watercolour painting kit hire or purchase are available at time of booking.
Gift vouchers are available online, please go to the 'book classes' page for more info.
RRR Subscribers can enjoy a 10% subscriber discount on our courses and workshops. Please email us with an image of your current card before booking.
Access:
Please note that we are on the first floor and access is by stairs only. There is also a toilet on the first floor.
Parking is ticketed in Brunswick Street however there is some 2-3 hour street parking available in Greeves Street, St David's Street and the surrounding streets. There are some 4-hour spots  between Smith Street & Brunswick Street, near the Fitzroy Town Hall. Evening class students can generally find a spot in Greeves St near the primary school, as the 2-hour limit expires at 7pm. Please check signs as there are designated permit zones for residents only. There are bicycle parking hoops outside our entrance.
Public transport: Tram route no 11, stop 15.